Thank you for your interest in our company. This short article describes our internal recruitment workflow giving indicative timelines although please note that timelines will vary depending on the volume of applications. Candidates who do not meet the minimum eligibility criteria, those who are overqualified and those who have not been shortlisted during the HR or final interviews will be informed that they will not be invited to the next stage. We appreciate your wish to become part of our friendly community!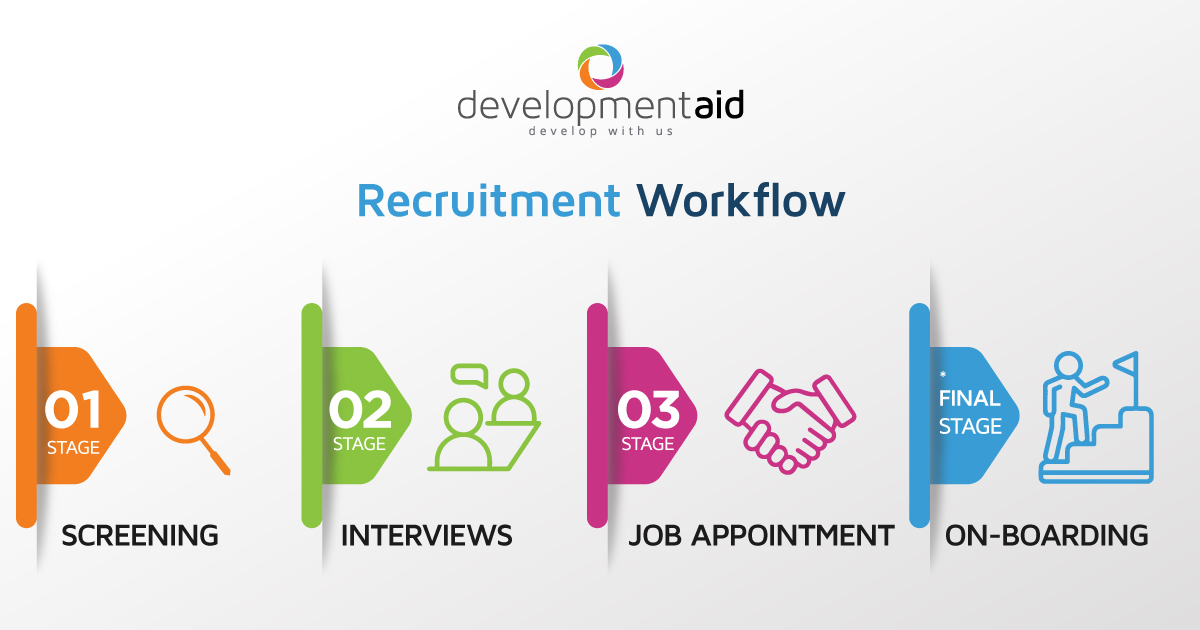 Stage1: Screening
After applying to any of the open roles, each candidate's CV undergoes a screening process to determine how well their profile matches the requirements of the post they have applied for. Education history, relevant work experience, and qualifications will be considered to ensure the right person is selected for each specific position. Due consideration will also be given to language skills as well as familiarity with the international development sector. Note that you may receive a phone call from our recruiter or invited to complete a Job Application Form. Duration: 2-3 days.
Stage 2: Interviews
Candidates who pass the basic eligibility screening will be invited to the HR interview which will be conducted via Teams. During this online meeting, we will share information about the company, the role you have applied for and discuss your professional background, salary expectations, availability and motivation for this role.
Candidates who pass the HR interview will be recommended to attend a final interview with the Department Directors (or Team Leaders) which will usually be held in the office. At this stage, candidates will be presented with more details about the role and administrative details about employment, the salary and benefits. As well as ensuring the previous education, relevant skills, and work experience have been verified, we also make sure the person we hire is a team player who can fit into our corporate culture and is able to thrive and work in an international organization with a passion to make things better in the international development sector.
After the HR interview, candidates will be invited to participate in the Candidate Experience Survey to help us to improve recruiting and interviewing processes.
Stage 3: Job Appointment
Candidates who successfully pass the interview with the Department Directors will receive an official job offer from DevelopmentAid via email.  As part of the pre-employment process, our dedicated recruiters and administrators will respond to the candidate's inquiries to support a smooth entry to their new position.
*Final Stage: On-boarding
On your first day you will go through all the necessary administrative procedures – you will sign the employment contract and attend the company induction training – then finally you'll meet your team and your training will begin.
After a few weeks of being employed by us, you will be invited to a 'Coffee Talk with Your Recruiter', an informal meeting between you as a new employee and the recruiter to help us to understand your experience in the very first few weeks within the company and the team.
Later, feel free to reach out to our HR team if you'd like to share any feedback (or complaint) that would help us to make your journey with us more pleasant and successful!