DevelopmentAid is a perfect place for Students! Here you will find a flexible schedule, professional mentorship and amazing people!
Are you a student looking for a Job or an Internship?
Apply for a full/part-time job during your studies or spend several weeks of Internship in one of our Departments (IT, HR, Data Management, International Recruitment, Sales, Marketing)
Requirements:
• Good knowledge of English
• Ongoing university studies
• IT studies (for IT internship)
We offer:
• Full/Part time employment/internship, Monday- Friday
• Very flexible working hours
• Competitive salary starting 250 Euro for the full time employment, for the Student Job;
• Referral bonus
• International working environment, company operating on the global market;
• Internal, on-the-job training and continuous professional development program;
• Cozy relaxation area, with access to a play room and a diverse library;
• Freshly brewed coffee by our Office Barman;
• Corporate events, team buildings and social events.
Career path:
You will receive a specialized training and a company induction, having a chance to learn about the activities of all our departments. We believe in your potential and we are excited to offer you one of the in-house jobs, when you will be ready to join us on a full-time basis.
Become a DevAider
Apply for this job by sending your CV
Didn't find what you were looking for?
Send us your CV and we'll find a position for you.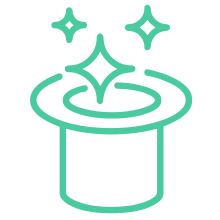 Our talented recruiters will match your top skills and will offer you a position that suits your interests and qualifications. Click Contact Us and attach your CV/Resume or go back to learn more about our available positions.